1927. THE FIRST ROUND SPAIN FLIGHT BY NIGHT.
With the war now over, Haya and Tauler, two distinguished officers, were keen to make a direct flioght to Japan. At that moment they were refused permission as other flights were in preparation or actually being carried out, but they were promised support, means and facilities to carry on with their training. They made nocturnal flights from Malaga to Tetuan and prepared a round Spain flight in stages from Melilla to Almeria, los Alcazares, Barcelona, Logroño, Vitoria, Bilbao, Santander, Leon, Salamanca, Madrid, Badajoz, Seville, Malaga and finally returning to Melilla.
The fully comprehensive round peninsula flight took place between the 9th and 11th of September 1927, departing from Melilla at 04.00 am on board a De Havilland, the DH-9 number 66 and making jumps both by day and by night, using inertial guidance navigation and relying heavily on the direction finder for the precision sighting of land. They had studied all the complications associated with the installation on board of the direction finder, solving the problems relating to the aerial, coupling, compass compensation, etc.
The land stations they used sent out signals every five minutes and this is how they covered the night stages from Los Alcazares to Valencia to Barcelona, continuing the programmed route and landing in Getafe at night with the aid of a line of beacons. At 4 o'clock on the morning of the 11th September, they took off bound for Badajoz, feeling the pressure involved in trying to establish a first –that of making a complete round trip in 48 hours. A failure to the magneto forced them to land in a field between Badajoz and Seville, and finally they managed to reach Tablada and from their make the final jump to Tetuan and Melilla.
They had taken 72 hours, using almost continuously the direction finder, making precision land sightings during the night at previously indicated points, and demonstrating a perfect combination of aptitude and preparation in their use of the new aerial navigation system.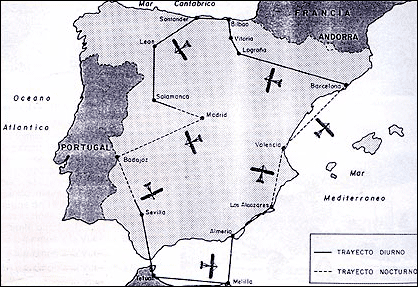 A MULTI-TALENTED AVIATOR
After imparting the Flight Without Visibility Course (1927) and following the above-mentioned round Spain flight, Carlos Haya was undoubtedly an expert specialising in night flight, flight without visibility and navigation by direction finder. It was he who started these types of flights in Spain on a regular basis, which were well noted abroad, especially in Germany, where he was invited on repeated occasions to give account of his experiences and share new ideas.
Proof of the fact that Haya had a unique vocation as a multi-talented aviator was his continual formation in courses or secondary activities which completed his all-round training. In May 1928 he obtained the title of First Radio Operator and in December 1929 he rounded off his training with the Course in Aeroplane Observer. Also in November 1928 he took the Paratrooper Course, in testimony of which is that celebrated photograph depicting future famous names, amongst which we find Pastor, Rambaud, Alvarez Buylla, Mendez Parada, Gomez Jordana, Lopez de Haro, Chamorro, Gamir and Haya himself. In addition to being an expert navigator and an accomplished aerial acrobat, Carlos Haya furthered his professional career following the War in Morocco, having experience of numerous incidents, mechanical failures or emergency landings, as parachute instructor or teacher at the School of Mechanics. His activity in the field of invention brought him into close contact with some flight and land mechanics and enabled him to acquire a number of skills as a technician specialised in mechanisms and pneumatic and electrical devices.
Meanwhile, in the summer of 1928 he was to perform one of the most singular and praiseworthy sporting feats of the age, which has been somewhat overshadowed by his other more illustrious exploits. We refer to the Round Europe flight in light aircraft.

October 1930:
"One afternoon we were surprised by the arrival at the provisional (Naval) airfield of a light aircraft built in Madrid and about which we had heard great things. This was the CASA, designed and built by the military engineer and pilot Luis Souza with the collaboration of the Catalan civil engineer José Aguilera. It was piloted by Captain Carlos de Haya, who was making a Round Spain flight.
A short time after landing, De Haya came to our aerodrome to ask for the assistance of a mechanic familiar with Cirrus 85 engines (the same as those installed in our flying school planes), explaining that he couldn't manage to get his engine to function properly. Some minutes later he returned to the Naval air base accompanied by Sangenis, our chief mechanic. This latter quickly identified the problem: a filed cylinder, which meant minimal compression. The cylinder had to be replaced. We offered him a new one along with the corresponding rings. That same afternoon Sangenis assembled the new cylinder, tested the engine and this functioned at maximum performance. We took De Haya to dinner and the following morning we accompanied him to the airport where Sangenis started up the engine. Haya tested it and ten minutes later he took off to continue with his round flight, which he finished in magnificent style"...